How does intelligent energy shape our future?
Conference in Helsingborg
Wednesday 22nd of June 2022
Join fellow thought-leaders within the green transition for this conference in Helsingborg!
Together we will forge new collaborations that accelerate the green transition, asking how does intelligent energy shape our future?
We kick off the day with inspirational talks, followed by break-out workshop sessions to address three challenges to explore and begin cocreating intelligent energy solutions for the future.
We finish the day with a matchmaking session with the opportunity to meet technology providers, utilities, living labs, universities, and investors, all committed to strengthening the collaboration between stakeholders in the Öresund region.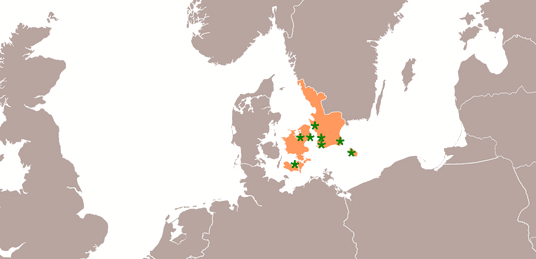 Make your mark and join us for this exciting and highly interactive event in Helsingborg as a key event during the H22 City Expo 2022.
The event is hosted by Öresundskraft in RecoLab in Helsingborg on Wednesday 22nd June 2022.
Moderators: Jakob Østergaard (DTU), Nicolai Juel Vædele (Greater Copenhagen), Christoffer Greisen (Hybrid Greentech) and Mikkel Rohde Madsen(DTU)
08:30: Registration and coffee
09:00: Welcome by Nicolai Juel Vædele (Committed Director Greater Copenhagen)
09:15: Welcome to Recolab by Amanda Haux (Business Developer RecoLab)
09:20: Keynote talk by Jacob Østergaard (Professsor and Head of division DTU)
09:50: Questions from delegates to Jacob Østergaard, facilitated by Nicolai Vædele
10:00: Vision for Östra Ramlösa by Patrik Hermansson (Head of Strategy Öresundskraft)
10:15: Break
10:30: Introduction of challenge-owners by Christoffer Greisen (COO Hybrid Greentech)
10:50: Presentations by the three challenge owners of their overall challenge (10 min each)
Group 1: Challenge-owner Anders Fredriksson Kleine (Head of Public Affairs Öresundskraft)
Sweden's vast power generation, where new production capacity is added mainly in the North, is challenging to bring to the densely populated Southern regions due to bottlenecks in the transmission grid. This limits economic growth. How can various stakeholders contribute to solving this challenge, preferably faster than establishing new power lines?
Group 2: Challenge-owner Håkan Knutsson (Chairman SweHeat and Cooling)
Supermarket cooling equipment and building air conditioning offer distributed surplus heat. How do we think circular and integrate such small heat sources into the district heating networks?
Group 3: Challenge-owner Rasmus Rohlff (Senior consultant City of Copenhagen)
Local energy communities are expected to play an essential role in stimulating private investment in renewable energy and unlocking energy flexibility across the EU. How do we best remove the obstacles for such new players and aid their successful implementation?
11:20: Workshop session part 1
12:00: Lunch and networking
12:30: Workshop session part 2
13:30: Break
13:45: Presentations from the workshop discussions by delegates and challenge-owners
14:15: Conclusions on workshop presentation by Christoffer Greisen
14:30: Closing remarks by Nicolai Juel Vædele and Jacob Østergaard
14:45: Guided tour of the Recolab house by Amanda Haux
15:30: Networking with drinks and snacks at roof top tent venue
16:30: Finish
The conference is organized by the partners in The Innovation Hub for Flexible and Intelligent Energy in Greater Copenhagen: